After few years of separation from my previous partner I thought I would stay single forever. Since I have met the lovely Thai lady on the dating website, my future has been changed.
I had always liked Thailand and the people there after having visited a few times and had great fun. I had done all the touristy things, getting drunk in bars going to shows that would be banned in Australia, and in general managed to get by on absolutely no words of Thai.
Gamsai (nice cheek) is my Thai lady I found. Her English was not good and I didn't speak a word of Thai. We used Google translation, as you would imagine how funny the translation was. I found it hard sometimes to understand what she was saying. Anyway we corresponded for about 5 months before I go to see her.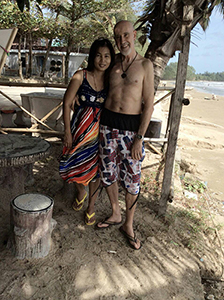 I decided to try to learn some Thai before I went, I tried the internet, I advertised for a local teacher but I couldn't get my head around the language. Nothing was working, then I saw an ad and I ended up going to this wonderful person with such a friendly smile her name was Amy. I don't know how many Sundays I went there but slowly things were making sense to me.
Then it was time to go on my big adventure and see what I had let myself in for. I arrived in Bangkok late December 2012 she said she would be waiting, but the airport was so big I didn't know where she would be. Because I had no mobile phone with a Thai sim card I had to use a public phone and with the help of some cleaning ladies managed to contact her and found where she was.
In December 2013 I decided to sell everything I had in Australia packed my bags and left for a new life in Thailand. We rented a house in suburban village just north of the city of Bangkok and finally in September we got married.
It wasn't the typical Temple wedding, or Village wedding which would have involved the giving of a dowry or Sin Sot, we got married at the local Amphor which is the local government administration office. It just involved a signing of papers which I had got from the Australian consulate and then translated. I needed a form to say I was free to marry, a copy of my passport, official proof of where I was living all confirmed and stamped by the Australian consulate in Bangkok. All documents had to be officially translated and taken to immigration to be processed then to the Amphor with my wife's paper work which was copies of her I.D. and proof of residence or Tabien Baan.
Once at the Amphor the paperwork was processed within an hour and certificates issued. There were maybe 4 or 5 Farang/Thai couples that I saw there while we were waiting.
So now my journey of family has just begun again this time with my adorable Thai wife, so wish me luck!!!