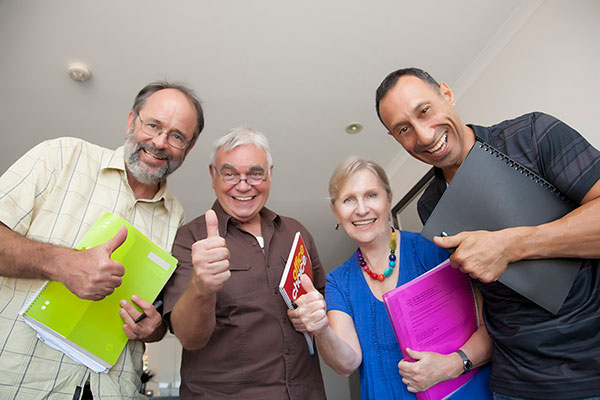 It is amazing to know that learning a new language, especially Thai can be simple and fun. Our unique teaching techniques are applied to ensure our students learn the language effectively and easily.
Our Teaching approaches will enable you to learn and remember Thai and able to speak the Thai language realistically and with practicality.
Self-confidence (Self-esteem):
Believe it or not learning the language is a matter of psychology. It involves our minds and thoughts in the first steps of learning.
It has been discovered that speaking any language is a way of showing self-confidence and self-esteem. You will be taught how to build self-confidence and self-esteem by using the language right for the first time.
Even if you have lost confidence because of negative feedback and criticism, we will help you to re-build this again to enable you to speak Thai confidently.
More importantly from the beginning of learning Thai with us, you will be encouraged to re-set your mind (with ice-breaking thoughts) to prepare you to be able to understand and accept the Thai language, people and culture with confidence.
Goal directed:
Students are encouraged to set goals to achieve levels of speaking. We encourage you to aim for a high but realistic goal.
At the end of each level a review is conducted to ensure each goal is accomplished, so that you can move forward with confidence.
Associating & relating words:
We encourage you to relate or associate words that you know in English, which can help you to recall and remember new words in Thai.
We also encourage you to make sentences relating to your own interests and life experiences. This will help you to memorize a high percentage of words and sentences.
Known to Unknown:
We will help you to step up the learning process and be able to understand many words and sentences by applying a process of association. Basically if you understand the intent of a phrase or sentence you will by association understand more of the unfamiliar words. Therefore, your learning is reinforced by remembering basic Thai words thus enabling you to expand your learning to new words.
Active listening & learning:
We encourage two ways learning; Firstly by involving you in the lesson by repetition, response to the teacher and by play acting roles within a group or with your teacher.
Secondly, we use Romanization of the Thai language which involves using the English alphabet to make Thai words (correct pronunciation).rather than relying on reading the words written in English letters (Romanization), you are encouraged to learn by listening (with eyes shut) and associating English and Thai words. Due to the tonal nature of the Thai language we recommended you to be an active listener to the Thai sounds and be sensitive to the tonal language
We have produced a recording of the basic words and phrases which will enable you listen and practice at times suitable to yourself.
Edutainment:
As our website name Implies: THAI Learn with Fun
Our lessons have been developed to bring fun and enjoyment to the class This word is the combination of "education and entertainment" which is the mixture of having education while enjoying the lesson. Enjoying learning is the key to success of learning languages. You will unconsciously learn without knowing you are having a lesson. Fun produces learning.
Feedback:
You will be given feedback by review at the end of each level as well as comments from your teacher to improve your learning outcomes. Likewise, your giving feedback to your teacher is welcomed to assist us with teaching improvements.